Wallet Purse Project
Tapestry and Needleweaving Techniques
A Beadwrangler Workshop
---
---
Purses, purses, purses! What is it about little containers that are so mesmerizing? I continue to create new designs for purses, baskets, jars and other containers. I want to share my designs with you. This is just a one of many to come. The instructions are for those who already know how to tapestry weave or needle/pin weave and have some basic experience in beading.
---
Sources for Learning Pin/Needle and Tapestry Weaving Techniques
If you do not know how to needle weave you can teach yourself with the aid of Beads and Threads, a book authored by Diane Fitzgerald and Helen Banes, ISBN 0-9620543-5-6. This book is a melding of beads and fiber through tapestry weaving and has very good instructions. It includes incorporating beads directly onto the warp threads. Beads and Threads can be purchased at most of your local bead and book stores. Threads Magazine published an excellent article in their February/March 1990 issue titled Fiber Jewelry by Susan Pence Beaudry and Helen Banes. This article has step-by-step instructions and graphics to learn needleweaving. Handwoven published an article titled Tapestry Weaving on a Pin Board by Ronnie Bohannan in their March/April 1988 issue. This article gives instructions for making a tapestry belt and those techniques can be used for making purses. Handwoven's article, A Beaded Butterfly Necklace by Lois Fronk, can be found in their May/June 1995 issue. This is a how-to project for needleweaving a butterfly and incorporating beads. Threads Magazine published a how-to article on pin weaving, Making Custom Fabric by Diane Ericson, in their February/March 1994 issue. There are instructions for making a vest using pin weaving techniques and graphics are included. There is also a wonderful out-of-print book titled Shaped Weaving by Nik Krevitsky and Lois Erickson, ISBN 0-442-22321-8 (paperback) and -4 (hardback) that has a wealth of information on needle and finger weaving techniques if you can get your hands on a copy. Handwoven Magazine published two articles in their May/June 1995 issue by fiber artist David Johnson. The first is titled Small Looms to Make or Adapt For Tapestry which includes adapting an inkle loom for tapestry weaving. The second article, How to Weave a Tapestry Pendant, offers many tapestry techniques.
You can also learn these weaving techniques at local organizations such as weaver's guilds, embroider guilds, bead societies and bead stores. If they do not teach these techniques, they can probably offer a source.
---
Supplies
I use Silamide thread for all bead embellishment. The Conso thread used for warp threads in your loom can also be used in the strap of the purses. I use fine quality Czechoslovakian and Japanese glass seed beads in my work. Fibers are noted in each purse description. I work with many fibers, some thick and others thin. Most of my pearl cotton is equivalent to DMC 3, 5 and 8. I often use found objects to incorporate into my pieces. I use all kinds of beads in larger sizes including unusual plastic beads and forms if the color is permanent. I use English sharps and beading needles for seed beads. Tapestry needles are used for weaving the fiber. Sewing needles can be used to sew finished woven purse parts together. I use my bead sharps needles size 11 or 12 or size 12 quilting between needles to sew the pieces together; whichever is nearest when I am ready to sew.
---
Patterns for Weaving Purses
These patterns are basic outlines to use and design your own creations. They are set up for grids with 4 squares to the inch. You can use a grid with more squares per inch for a more intricate pattern, however, it will take longer to weave.
---
Wallet Purse
Needleweaving Pattern Setup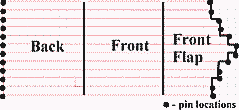 The Wallet Purse is a very basic one piece that can be folded into three parts; the back, front and flap. You sew the two sides together up to where the flap starts on each side. Leave the flap open for folding over; the purse will look square. You can use a snap, small frog or other closure. If you attach a button, you will have to plan the button hole slot on your flap prior to weaving. I used pearl cotton and rayons for this purse. If you look at the image of the purse I designed from this pattern, you will see many textures can be achieved on a small surface. I did not want beads on this purse. I wanted all the fiber textures to show. I did not put a closure on the purse. Instead I have a tie tack and two pins available for the closure. The purse has many different visual appearances depending on which one I use. I put the tie tack or pin on the flap only; the weight keeps the purse closed.
Enjoy and experiment! That is what we are all about.
---
When you make copies of these instructions to share with your friends, please tell them you got them at Beadwrangler's.